On Tuesday, November 5, 2019 Ernest J. Gaines completed his life. Out of respect for him I decided to reread his novel, A Lesson Before Dying. It is a gripping story with craft and sensitivity that is unforgettable. And it is a story with as much written between the lines as written on the lines. When a story is truly great it is hard to say exactly why — in this case to point out that it is authentic, moving, dignified, tender, deeply spiritual and bluntly honest, all seems redundant. That pile up of words doesn't say enough. Gaines wouldn't use abstract words like that anyway. He always kept it simple. In the case of his character, Jefferson, he shows us what it means to be a man. Not a lucky man, but a deep down tested and true one.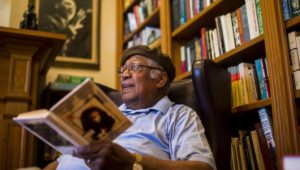 I also listened to an interview with Ernest Gaines in which he talked about his life and his work. He dared to do something that not many authors dare to do anymore. And he used words that not many speakers are inclined to use. He spoke of character. Not snobbery or fame. Not power or rank. He spoke of character as something that can be witnessed by observing a man (or a woman) who has it. I guess it goes without saying that lack of character is also a void that speaks for itself.
I've long been convinced that A Lesson Before Dying should be required reading for young people, although the truth of it is that young people will pick their own reading for themselves. But now, in this time of honoring Ernest Gaines at the end of his life, I see in his interview a gift to those who are adding up years. Those who are in a stage of life that merits reflection on their own story.
Ernest J. Gaines has left us a lesson before dying. An unforgettable one. May He Rest in Peace.