Book Review: Looking for Dawn by James C. Schaap. Floyd River Press, 2017.
Most stories are woven around characters. It takes a different sensibility and a determined imagination also to weave a story around a place. That is especially true of the region in which James Schaap has chosen to place Looking for Dawn.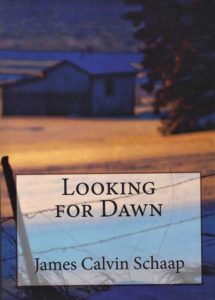 It is not a location like those around the Eiffel Tower or Big Ben or the Empire State Building, where recognizable landmarks create immediate familiarity even for those who have never been there. The land to which James Schaap takes us is familiar only to those who have lived on it, learned from it, and understood it over time.
Initially I was drawn to Looking for Dawn because the setting is near the place where I was born. Schaaf is writing about South Dakota; I was born across the state line in the western part of Iowa. As I worked my way into his story, however, I discovered how little I know about this region of my birth. A look at the map reveals towns with small populations, surrounded by vast open spaces that to the uninformed spectator appear empty. Schaap's portrayal of these spaces is not empty; it is vivid with history, a testament to a deep story that is ongoing.
Through the voice of one of his characters, the author suggests, " there was more horror out on the limitless plains than other places, other worlds, even when there were so many fewer people." This is a region in which spirits have been tested, and Schaap is not afraid to reveal the dark side of the struggle. He begins the story with a community's reaction to an attempted suicide by a beautiful young woman. "Visit some rez cemetery," he advises the reader, and there you will find the burial places of "dead men and women who breathed their last in some deadly blizzard, a way of death that was a way of life." Giving up on life made suicide epidemic.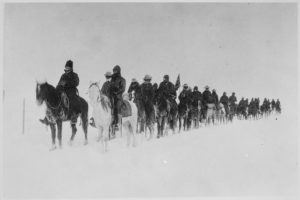 The story Schaap tells occurs in December. It takes us to homes in which the lights have been put on Christmas trees. It also introduces us to dramatic scenes that fall on the darkest days of the year when on the Pine Ridge reservation the elders are preparing for the riders who make an annual journey in remembrance of Spotted Elk's people and the Massacre at Wounded Knee. Schaap's story is rich with characters whose own histories merge these different streams: four young people breaking into adulthood as they emancipate from their families and sort out their identities, and four couples of various ages, who are sorting out the prospects and failures of loyalty. Set in a place where populations are small, this cast of characters is large.
Events in Looking for Dawn occur in the dark of night and in the dead of winter with "snow and ice and winds that freeze your eyes open." The author takes these characters in their frozen predicaments and gradually thaws them. For some the struggle is a "dark night of the soul" for others it is a vision quest. Each character is either searching for something or running away from something past that will not let go.
The cycle of stories that Schaap crafts is brought together in a circle of reminiscence like ghost dances that connect the living to their ancestors. The reader, who sees only an empty landscape in the setting Schaap reveals, fails to understand that in this place, as in every place, life does not stand still. The stories of the fathers and mothers flow through their children and into the future. In this sense we are all connected to a place from which we come. Everyone has a backstory, and everyone has a future that has not yet come into full focus. To see it requires vision.
The most remarkable character in Looking for Dawn is Grandma Pritchard, an older Lakota woman who sees what others cannot see. She tells her seventeen-year-old grandson, Marcus, the stories of Wounded Knee, the Ghost Dance, and Big Foot, but he doesn't understand why she keeps repeating the stories of "old days."Marcus lives with another young guy in a trash-littered, rat infested farmhouse off the reservation. He makes just enough money to support himself by working in a grocery store, and he attends school in town sporadically.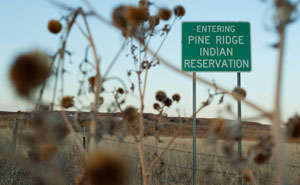 Despite the fact that his life is going nowhere, of one thing Marcus is sure: he doesn't want to live on the reservation with his grandmother in her trailer.
Grandma Pritchard knows she has to let Marcus go, but as his guardian spirit, she goes with him. Marcus is linked to two cultures. The one he has received from his father and the other from his mother, although both of his parents have abandoned him. It is his grandmother who mirrors these cultures for him. Among her people she is a respected elder who preserves the "old ways," while among the people in town she is a respected older woman, who attends church and is known for her abundant good sense. As Marcus observes her navigating what life sends her way, he begins to understand that her strength derives from knowing who she is.
Against the stark background of cruel weather and grating poverty, the love of this grandmother for her grandson is heart-warming. She understands what it is like to be young, because she can remember when she was young herself. She is not underestimating the confusion of voices when she advises Marcus "What you need is a vision." He dismisses her suggestion with the excuse that the weather is too cold for any man to sit on a mesa and wait for a vision. "You just be ready, boy," she tells him. "You just make your heart ready."
Gradually Marcus recognizes in his grandmother's stories and also in her silence that she speaks "to him in voices, new voices added to the many already talking in his heart and in his head." The voices he hears are not lectures or bits of advice. She created "an empty place and made it clear he wasn't supposed to fill it up with words . . . ."
Marcus discovers in his grandmother a person who knows how to be with those who are suffering, and she knows how to bring what is broken together again. She is a healer who is often present in silence. She "said almost nothing . . . didn't hypnotize . . . didn't wave a magic wand or light a smudge and bathe them in smoke and spirit – didn't do any of that . . . . She seemed to know what medicine to supply and how much, how to manage the silence, what to say when something needed to be said." Her presence is a power that changes every character by thawing the eyes that have been frozen open.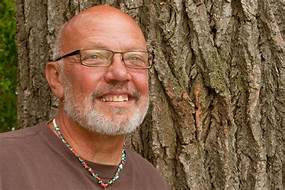 In Looking for Dawn James Schaap has done a similar kind of eye-opening. He is cautious not to overstate either the ugly or the good. His characters are neither villains or heroes.The momentum of his story is neither toward a life lived happily ever after nor toward one that gives in to hopelessness. Rather, he speaks into the bleak no-man's land in which lives can unravel and hope may be lost, and with this beautiful story he offers "good medicine." It's a story for which a reader can be grateful.